Vision and

Mission
Vision
Adarsh International School, Naya Raipur will address all aspects of a child's development: intellectual, physical, emotional and social. The school values and nurtures each student's curiosity and imagination at all grade levels.
Adarsh International School, Naya Raipur will be a child-centered school recognized for its brilliance as established by incessant student academic achievement; a culture where students and staff are valued, respected and empowered; quality leadership; and high-quality learning experiences that focus on the success of all.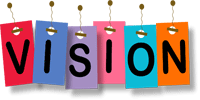 Achieve academic excellence by the provision of challenging, outstanding teaching and a culture of intellectual curiosity and independent learning.
To realize this vision, we will:
Provide a supportive pastoral environment which meets individual needs, and promotes the development of happy, considerate pupils.
Encourage the appreciation of the spiritual dimension to life, and the development of a sound moral framework.
Promote continues institutional improvement through high-quality professional development
| | | |
| --- | --- | --- |
| Mission | | |
| | | |
| | | Adarsh international School, Naya Raipur is a supportive learning community where students and educators are active learners and all work together to develop habits and skills for life-long learning and personality successful lives |

.